You love books. They're the perfect present, obviously. We've put together a selection to help you find the perfect gift for every person on your list this holiday season.
We aimed for a wide range, and to choose books a little bit off the beaten path. If you pick a book from this list, the odds are pretty good they don't already have it – either because it just came out so they haven't gotten a chance, or because it's not on their radar.
Most of the books on our list are available on Amazon Prime – so no matter what holiday you celebrate, there's a perfect last-minute gift for you in here somewhere.
Literary fiction:
New: Manhattan Beach, by Jennifer Egan (2017)
The Visit from the Goon Squad author is back with a gripping thriller about a woman who worked at the Brooklyn Navy Yard during World War II.
Middle-ish: A Tale for the Time Being by Ruth Ozeki (2013)
As far as we're concerned not enough people have read this book. This novel is narrated by two fully realized characters– a teenaged Japanese-American girl (Nao) keeping a diary while living in Tokyo, and a Japanese-American writer (Ruth) living on an island off the coast of British Columbia who finds that diary sometime after the 2011 tsunami that devastated Japan. This book goes to some dark places. 16-year-old Nao wants to commit suicide but not before she finishes writing about the life of her 100+-year-old old Buddhist nun grandmother. In doing so she captures much of her own story. Ruth, who finds the diary well after it was written, forms a connection with Nao even while her ultimate fate is unknown. The novel deals with everything from time, spirituality, physics, and placemaking. Fun fact: Ozeki became the first practicing Zen Buddhist priest to be shortlisted for the Man Booker with this book.
Classic: Swamplandia, by Karen Russell (2011)
Only Karen Russell can write a novel so delightfully bizarre but utterly grounded. Ava, the youngest member of the Bigtree alligator wrestling clan, travels to the Underworld in an attempt to save her sister, who's eloped with a ghost.
For the politically minded:
New: We Were Eight Years in Power: An American Tragedy, by Ta-Nehisi Coates (2017)
If your giftee is the type of person who likes to share op-eds and horrifying but true articles about the Trump administration, this is the book for them. Coates's insightful, beautifully crafted political essays are exactly what we need to read right now.
Classic: The Partly Cloudy Patriot, by Sarah Vowell (2001)
Written during the early days of George W. Bush's administration, in this collection of essays Sarah Vowell examines what it means to be a patriot under the rule of a president you don't respect, who over half the country didn't vote for. With Vowell's trademark wit, this is a much more lighthearted read than the Coates, though just as sad.
Memoir:
New: Hunger, by Roxane Gay (2017)
Roxane Gay tells the crushing story of her rape and its profound effect on her body image and sense of self-worth. The story is bleak, but Gay's writing is beautiful.
Middle-ish: Hyperbole and a Half, by Allie Brosh (2013)
Allie Brosh wrote this hysterically funny graphic memoir about the darkest period of depression in her life. You can view a sample of the comics at http://hyperboleandahalf.blogspot.com/ to see for yourself.
For Sports Lovers:
New: Basketball (and Other things), by Shea Serrano (2017)
This irreverent, beautifully illustrated book of basketball minutiae and "what ifs" is a great pick for the sports lover on your list. Serrano asks and answers questions like "If 1997 Karl Malone and a Bear Swapped Places for a Season, Who Would Be More Successful?" We don't get that joke, but we bet the sports fan on your list will find it hilarious.
Classic: The Natural, by Bernard Malamud (1952)
A baseball player makes a gut-wrenching choice in this slim novel. Originally published in 1952, many people still call The Natural the best book ever written about baseball.
For History Buffs:
New: Grant, by Ron Chernow (2017)
Everyone is buzzing over Grant, the new book by Ron Chernow, author of Hamilton. While it has not yet been turned into a blockbuster musical, Chernow offers detailed insight into the life of our 18th president.
Middle-ish: Assassination Vacation, by Sarah Vowell.
With a distinct sense of humor and witty outlook Vowell takes the reader on a roadtrip to sites of political murder. Offering insight, criticism, and funny commentary this book will make any history lover smile. If you're reading this the day before whatever you celebrate you're in luck! It looks like you can get it with Prime shipping for under $11- https://www.amazon.com/Assassination-Vacation-Sarah-Vowell/dp/074326004X
Classic: Is Paris Burning?, by Larry Collins and Dominique Lapierre
Hitler wanted to destroy Paris at the end of World War II. He didn't succeed, but why? Full of compelling characters and tension, this book brings history to life.
Hipster: The Glory and the Dream, by William Manchester
For the hipster historian in your life. This gem of a book is so obscure it's actually out of print (but available used on Amazon). William Manchester's The Glory and the Dream is a comprehensive, two-volume set that looks at American history from 1932 to 1972. Manchester paints a vivid picture of history as a living thing, not a dull collection of facts. The Glory and the Dream is available as an ebook, or you can buy a used copy at https://www.amazon.com/gp/offer-listing/0316544965/ref=olp_page_4?ie=UTF8&f_all=true&startIndex=30
For Mothers:
Nope. We're not going to pretend that "mother" or "father" is enough info to base a book rec on. If you really loved your mom, you would know what type of book she wants to read.
Humor:
New: To Be Or Not To Be, by Ryan North (2013)
Trying to make a kid like reading AND Shakespeare? Try To be or Not to Be by Ryan North. This a choose your own adventure version of Hamlet, you can follow closely to the original story or play as one of the play's main characters and go through hundreds of variations. Humorous and creative you'll probably keep it for yourself.
Middle-ish: The Gospel of the Flying Spaghetti Monster, by Bobby Henderson (2006)
Ten years later, who knew how relevant The Gospel of the Flying Spaghetti Monster would still be? We recommend this book for your suburban relatives; you know, the ones who voted for Trump.
Classic: The Thurber Carnival, by James Thurber
James Thurber was one of the most eminent humor writers of the 30s and 40s. His stories and essays are full of oddball humor and imaginative wit. "The Secret Life of Walter Mitty," perhaps one of his best known stories and the basis of the 2013 film, is in this collection.
Sci-Fi Humor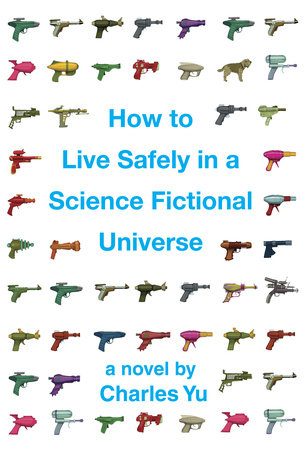 New-ish: How to Live Safely in a Science Fictional Universe, by Charles Yu (2010)
A son's search for his father takes him on an unexpected journey. This tongue-in-cheek satire lampoons sci-fi tropes and is full of meta-meta references.
Classic: STORE OF THE WORLDS: THE STORIES OF ROBERT SHECKLEY
Sheckley is one of the funniest, darkest science fiction writers of the 20th century (and notoriously, the inspiration for much of Hitchhiker's Guide to the Galaxy). Every one of his short stories is a perfectly spun web. His acerbic wit, razor-sharp satire, and deep imagination makes each and every one of these short stories a joy to uncover.
For Your Romantic Partner:
New-ish: The Lover's Dictionary, by David Levithan
"Trying to write about love is ultimately like trying to have a dictionary represent life. No matter how many words there are, there will never be enough."
Is this the cutest possible book gift for your sweetheart, and also a really great read? Perhaps. Read consecutively, The Lover's Dictionary tells a loose story about a couple through a series of definitions. Most of the definitions are also self-contained, so it can be flipped through and read a line or two at will. No gender is ever given for the couple in the definitions so this book is LGBTQ-friendly.
Poetry:
New: After You Say What's True, by Dan Tarnowski
This book is so indie it's only available for sale on Etsy. Read our review here (http://thefuriousgazelle.com/2017/06/20/dan-tarnowski-review/) and get your copy at
https://www.etsy.com/listing/522488277/after-you-say-whats-true-chapbook
Classic: The Goblin Market and Other

 Poems, by Christina Rossetti
Christina Rossetti was one of the great poets of the early 20th century. This lovely Folio Society edition makes a nice – slightly pricey – gift. The poem is about two girls who uncover a magical goblin market.
http://www.foliosociety.com/book/GBM/goblin-market-and-selected-poems
For Kids, age 8-12:
New: Paper Girls, volume 1, by Brian K. Vaughan and Cliff Chiang (2016)
Spark a lifetime joy of reading newspapers and fighting aliens. Read our review here: http://thefuriousgazelle.com/2017/10/21/paper-girls/
 Classic: Howl's Moving Castle, by Diana Wynne Jones
This delightful original fairytale is a great read at any age, but appropriate for ages 8 and up. It is the basis for the Hayao Miyaziki film (though quite different) of the same name.
YA Fantasy and Sci-Fi For Kids age 12-16 and beyond:
New
Warcross, by Marie Lu (2017)
A sci-fi thriller that'll satisfy YA fans of any age. Protagonist Emika Chen is smart, capable, and well drawn out. The world she inhabits is immersive, bright, and is believable enough to seem like it could be the not too distant future.
 Forest of a Thousand Lanterns, by Julie Dao (2017)
This debut novel by Julie Dao is the first book in the Rise of the Empress series. Xifeng, the protagonist, is a strong, complex young woman struggling to choose between a path of light and dark. The series explores the imagined youth of Snow White's Evil Queen.
Monstress, by Marjorie Liu (writer) and Sana Takeda (artist) (2016)
Monstress contains a beautifully  (both scripted and visually) drawn fantasy world inspired by steampunk, art deco, and Eastern Asia. The story explores the psychic link between a teenager and a monster, while also asking about violence, power, and the trauma of war.
Middle-ish: The Young Wizards Series by Diane Duane (1983-2016)
Well, book #1 So You Want to Be a Wizard was published in 1983 but book #10 Games Wizards Play came out last year so it's all over the place. This series is a must for any fantasy fan. Well thought out and amazingly detailed Duane's world immerses the usual in the magical. Not only does wizardry have a clear and grand ultimate goal- to slow the entropy of the universe- all living things are a part of this world (book one features a sentient white hole named Fred, there are established whale wizards and everything- even inanimate objects- has a voice in the world). Wherever you want to stick it, this wildly creative, well written and all around exciting modern-ish fantasy series will delight the reader in your life.  
Classic:
The Abhorsen trilogy box set
Garth Nix presents a world of rich, complex fantasy. These books are some of the strongest, most well-rounded female characters in modern young adult fantasy.
The Blue Sword + The Hero and The Crown, by Robin Mckinley (1982/84) 
Classic fantasy fare by one of the best out there, these books also feature some of the best female leads around. Buy these for any girls, but definitely any boys who need to learn a thing or two.
Realistic YA Fiction for Kids age 12-16 and beyond:
New: Turtles All The Way Down, by John Green
Everyone is raving about the new book by John Green, author of The Fault in Our Stars. Green is noted for addressing complex topics like suicide and death in an honest way that resonates with readers.
Classic: The Bell Jar, by Sylvia Plath
This book is a must-read for any teen. Plath's unique narrator and vivid descriptions of depression make this book a classic.
For Vegans:
New: Super Fun Times Vegan Holiday Cookbook by Isa Chandra Moskowitz (2016)
How do you know someone is vegan? By their delighted smile when you gift them this book.
Classic: Vegan with a Vengeance by Isa Chandra Moskowitz
OK, yes, this is another Isa Chandra one, but it's magnificent. A classic of vegan cookbooks, Vegan with a Vengeance was recently reissued with new photos, a sleek new look, and even more delicious plant-based recipes.
For the Non Reader in Your Life:
A Barnes & Noble gift card. At least they can use it for the chocolate.
Also, if chocolate is what they're after make them read this https://www.amazon.com/Book-Chocolate-Amazing-Worlds-Favorite-ebook/dp/B01E4WAG4E
They need to read something.